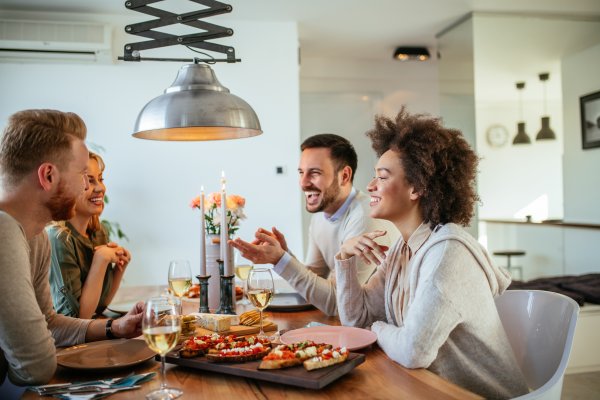 We all know that cleaning our messy homes is not our favorite way to spend free time this summer. The time we spend on our homes usually goes something like this: you clean, you enjoy the tranquility of your home, you vow that you won't let the filth get away from you again and pile up like it did last time, you go about life for a few days, and then poof! The house is, once again, just as filthy as it was last week. We all live out that vicious cycle, right?
It seems as though your home is never clean for long enough to share it with others, but having a home that stays clean all of the time would be the perfect excuse to get to play hostess! Perhaps you have wanted to open up your home before but have always been embarrassed of its condition and lacked the time and effort necessary to keep it spic and span. From baby showers, to slumber parties, to impromptu dinner dates with friends, any and all potential gatherings on your social calendar could be made attainable for hosting if only you had an easy way to mark 'housecleaning' off of your to-do list.
The Clean Haven is a company that exists to bridge that gap between the possible and impossible for folks like you. With customers scattered across the greater Dallas area, we know what it's like to work with homeowners who want to offer a steady welcome to family and friends yet lack the capacity to make that happen because of the lack of cleanliness of their homes. That is where we offer a solution that will transform your life by offering a general housecleaning routine that will provide manageable upkeep and a green light for all of your upcoming parties.
Our general cleaning service can be performed at the interval of your choice, either weekly, bi-weekly, or monthly. For those who are short on free time around the house, then a weekly cleaning is super helpful in keeping your home ready for last minute visitors. For the homeowner who has more time to work around the house but needs an extra set of hands here and there, our monthly cleaning service is sufficient. Whatever your specific needs are, The Clean Haven is here to help make your life easier and your home the hub of fun and excitement that you want it to be.
Give us a call today at 469.224.7793 for a free quote and more information on how our efficient and reliable cleaning can benefit your home!