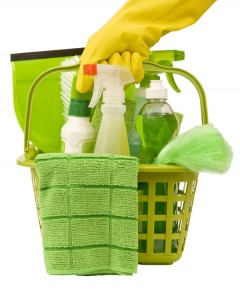 At The Clean Haven, we have more in mind than just a tidy house for our clients. The goal of our company is to provide a healthy cleaning option for both clients and staff while maintaining high cleaning standards. On top of our personal and professional customer service, we offer cleaning products that are beneficial for the many surfaces of your home, for the environment and for the health of those breathing in these chemicals.
As we know, studies continue to uncover the harmful effects of many of the chemicals that are found in your typical household cleaners. We choose to steer away from such chemicals and provide organic cleaning products that are both eco-friendly and high quality. At this point in time, we offer 80% all natural cleaning products! Although we are still not to the 100% all natural mark, that wiggle room affords us the time to try different methods as we work to develop our own specialty cleaning recipes.
If this information alone is not enough reason for you DFW folks to choose The Clean Haven as your top choice for a cleaning service, then let us point out a few more reasons why you should choose us!
Microfiber is our "must have". This tool helps to minimize waste and cross contamination while capturing the dust and dirt from within your home.
We reduce the use of plastic containers by purchasing in bulk and reusing bottles for minimal recycling needs. We also use reusable cloths, rags, and mop heads to reduce unnecessary waste.
Our employees at The Clean Haven are thoroughly trained and experienced.
We offer our clients that much needed piece of mind and stress free environment through our job excellence, trustworthy employees, and easy communication.
Call us today for a Free Cleaning Estimate!