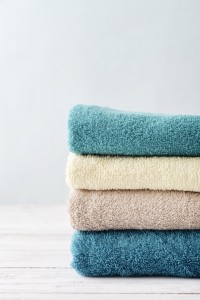 Are your towels starting to seem old? Do they have a smell that they didn't used to have? Are they not as fluffy as they used to be?  It may be time to freshen up those old towels.  Over time, using detergent can cause your towels to create a build up that leaves them less fresh than they used to be.  Try this trick if you are looking to freshen up your old towels!
Start by gathering your materials.  You will need your old towels, vinegar, baking soda, and the hottest cycle on your washing machine.
Add a cup of vinegar to your load of towels and run through an entire hot wash cycle.
Leave the towels in the machine, add 1/2 a cup of baking soda and run another hot wash cycle.
Move your load to the dryer and dry normally.
Whenever your towels are feeling less than fresh try this trick.  It's not an every load thing, but every once in a while following these steps will help freshen up your towels.  For more cleaning tips, follow our blog.  Give The Clean Haven a call the next time you need to freshen up your whole house!