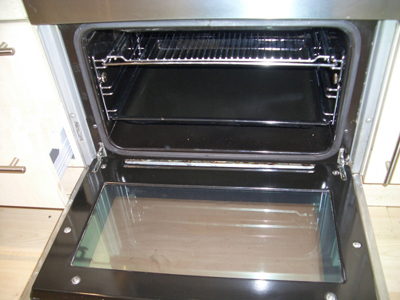 Cleaning the oven is usually a dreaded chore.  Especially with all the harsh chemicals out there to clean it with.  How about cleaning your oven a more natural way?  Cleaning with baking soda and vinegar will get your oven sparkling clean without using chemicals! Here's how:
Take the racks out of your oven.
Mix together 1/2 cup liquid soap, 1 1/2 cup baking soda, and 1/4 cup white vinegar  to make a paste.
Use a small brush to cover the inside of your oven with the paste.
Close up your oven and let the paste sit overnight for at least 12 hours.
Clean it off with clean water and a sponge.
Replace your oven racks.
Follow these steps and the grime in your oven will wash away!  If you'd rather have someone else clean your oven call The Clean Haven for details!