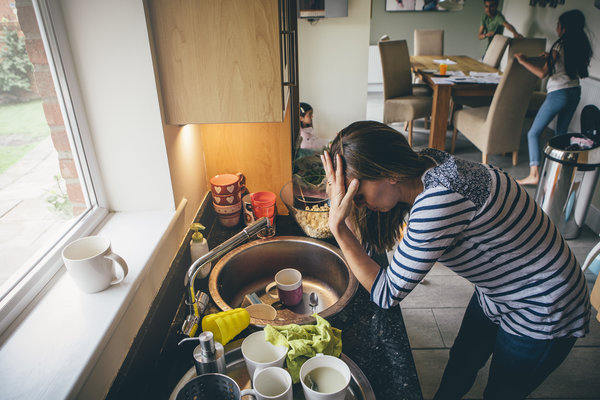 Are you expecting a baby? Have you recently come home with a new little one? Although such a time in life is full of joy and excitement, those first several months of days and nights run together as weariness sets in and survival mode kicks into high gear. Many new mamas find themselves walking like a zombie to the coffee pot or the refrigerator, looking for something that will wake them up a bit. And, when it becomes so difficult just to care for yourself and your new baby, then running a household can be a very overwhelming task.
We all struggle in keeping up with the chores on a steady basis. Work and appointments and traveling and ballgames and practices and meetings all stand in the way of the extra free time that we need to stay on top of those dirty dishes or filthy bathrooms. So, as a new or expectant mother, you can clearly see where that normal struggle with housecleaning becomes exacerbated when the exhaustion sets in after you've been up caring for a newborn all night long. By hiring a professional housecleaner to come to your house on a regular basis for general cleaning, you are giving yourself the gift of a tidy home and a place to find peace and serenity after a long day.
The Clean Haven serves homes all across McKinney and the greater Dallas area with both general cleaning and deep cleaning. We know that there are customers who need someone in their home every single week to help maintain order, while there are others who only need cleaning done every few weeks or just once per month. We are happy to work with you at whatever interval is most helpful for you and your family. We also perform deep cleaning services as a first time cleaning of your home or for special occasions, such as before the holidays or in the midst of a spring cleaning or renovation.
Our company is dedicated to top notch customer service and takes pride in the detailed care that we put into every home that we clean. We know that life as a new mama is both wonderful and tiring, and we would love to do everything we can to help you better enjoy your home in this season!