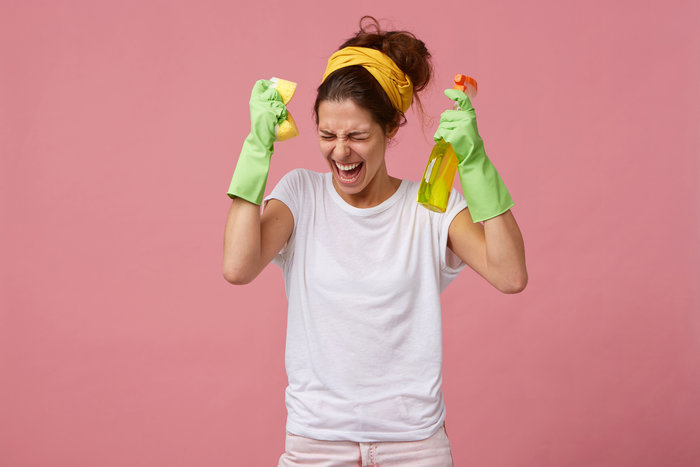 Do you struggle to know when it's time to throw in the towel? Maybe you have trouble knowing when you've let things go too far, or you've spread yourself too thin? These are questions that most of us shy away from because our pride and sense of accomplishment always tend to cloud our judgment. However, it would benefit each one of us to stop and consider these questions on a steady basis.
So, for you, maybe it's time to take a long look around your home and see how you're doing. Are you really enjoying this investment that you've put so much time and money into buying and making your own? Do you come home at the end of the day and find yourself in a relaxed atmosphere, with plenty of spaces to sit back with your family and enjoy the evening? We know, first hand, that the majority of homeowners do not necessarily enjoy their homes because there is too much housework built up around them. Too many chores and too little time. Too many moments forcing you to choose between quality time spent with loved ones or catching up on cleaning.
There is only so much procrastination that we can get away with in our homes when it comes to cleaning, and many people put themselves in a miserable condition by avoiding one of the most obvious solutions to their headache. Although, in a perfect world, you should be able to keep a tidy home, run a successful business, and maintain a busy calendar, it doesn't always work that way. Our homes should be our peaceful retreats that welcome us in when we are exhausted and help replenish us for the new day or week ahead, and you need someone else in place to make that happen.
If your home has become the place which drains you rather than restores, then it's time to throw in that proverbial towel and call for help. The Clean Haven is a highly personal and professional cleaning company that enjoys the opportunity to come alongside each of our customers and allow them to enjoy their homes again! We see people running themselves ragged and visualizing their home as a burden rather than a reprieve, that eyesore that needs to be avoided at all costs because the chores are just too much, the piles of dirt and grime just too high.
Whether you need someone to swoop in and do a one-time deep cleaning to set you straight again or would prefer a general cleaning service on a regular basis, we are the best cleaning option for you. With customers all across the entire Dallas area, we stand behind the fact that our work is both thorough and dependable, and we would love to visit with you today to offer you a free quote and hear more about your cleaning needs!